Wednesday, 29 May 2019
GIS - SMART URBAN MANAGEMENT SOFTWARE - CGIS OF ACUDGROUP IS HONORED TO RECEIVE THE FIRST NATIONAL URBAN PLANNING AWARD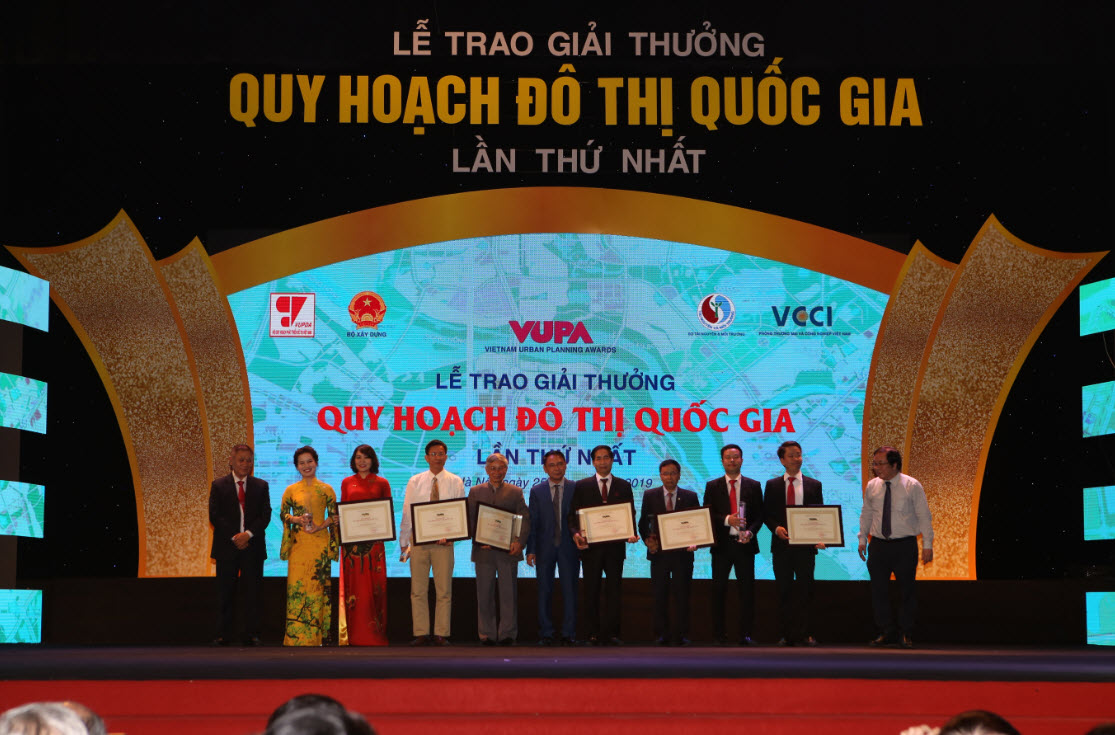 The National Vietnam Urban Planning Award (VUPA) is organized by the Vietnam Urban Development Association, with the support of the Ministry of Construction, Ministry of Natural Resources and Environment, and Vietnam Chamber of Commerce and Industry. This is a cross-country award -- selected every two years -- to enhance the position and appreciate the role of planning consultancy, construction and urban development management as well as honor organizations, individuals, and businesses who have made outstanding contributions in the process of participating in the planning and development of urban areas and rural residential areas in Vietnam.
Dr. Han Minh Cuong - General Director of ACUD Group (3rd from right) and MSc. Bach Ngoc Tung - Vice Director of the Company (2nd from right) received the trophy and certificates at the award ceremony.
The prize is selected for 4 types of works including: Construction planning project (Urban planning); areas invested in construction; publications on urban planning, including books, magazines, articles; and videos of theoretical and critical reports. Excellent urban development management for organizations and individuals with exceptionally outstanding achievements in the management, investment, urban development and rural population development.
The Awards Council consists of prestigious domestic and foreign experts. In particular, the Council was attended by Mr. Alfonso Vegara - Chairman of the European Urban Planning Awards Council. The Council agreed to select and rank projects, publications and records of organizations and individuals to award noble titles to existing units, individuals and businesses who have made outstanding contributions to urban planning, management and development in Vietnam.
According to the award regulations, the category of construction planning projects and the categories of areas invested in construction are ranked according to gold, silver and bronze awards. The category of construction planning publications is ranked A, B, and C. The category of urban development management is ranked by title: "Outstanding" and "Excellent".
As a result, the first National Urban Planning Award consists of 64 prizes, including 3 special prizes, 14 gold prizes, 10 silver prizes, 19 bronze awards, 1 prizes A, 3 prizes B and 6 prizes C, 4 outstanding outstanding titles and 4 outstanding titles.
CGIS Smart Urban Management Software (cgis.vn) has impressively received bronze award in the category of planning publications when meeting the selection criteria such as: Creative ideas, sudden breaking, unique, consistent with the general information technology development orientation of the country.
CGIS product set includes 4 software applications for smart urban management:
CGIS URBAN: Urban management
CGIS PLANNING: Planning management
CGIS PROJECT: Project management
CGIS ESTATE: Real estate management
(CGIS intelligent urban management software has been granted a Copyright Registration Certificate by the Copyright Office - Ministry of Culture, Sports and Tourism.)
Ecopark urban area uses CGIS software
Commenting on the quality of the first National Planning Award, the Awards Council said: The award has discovered some new planning views, new ideas, contributing to making the Vietnam urban environment more competitive and sustainable. The award shows for planning works has come to life, while affirming the important role of planners, policy makers, organizers of planning implementation, creating sustainable development in solidarity with the identity of Vietnamese cities.